In this article, we will discuss what is Robotic Process Automation in detail and how it is valuable for business processes?
We will also talk about its considerations on what to automate, different types of automation and top tools to implement RPA.
What is 'Robotic Process Automation'?
Robotic Process Automation (RPA) is a type of automation technique which can be used to achieve high results for automating software robots using artificial intelligence or machine learning or any tool available in the market.
Let us understand what RPA stands for in detail:
Robotic

– A set of complex tasks which can be used to program or automate is known as Robot. The major concept comes to automate or mimic manual tasks.
Process

– A process is a combination of steps, actions or procedure with business logic.
Automation

– A sequence or steps of a task automated using coding or program without human intervention.
The concept of the whole RPA comes to mimic human behavior across business aspects to deliver the same quality without human intervention.
RPA uses AI (Artificial Intelligence) along with ML (Machine Learning) concepts.
Automation is taken under consideration where the target business or audience can be increased or reduced to achieve higher profits and gains in the business market.
What to Automate?
Rule-Based – Set of steps in a process should be well defined.
Structured – The data or the content of the process must have structured formats.
Repeatable – The business unit process which has gotten processed with the same steps in the iteration.
High Volume – The benefits can be achieved with high volumes, even if the small unit is automated.
Understanding Automation and Robotics Automation
Automation

– Automation means handling the tasks and steps with the correct business logic and cognitive actions with rules without human touch.
This can be a complete, partial or full automation implementation where certain steps are automated instead of the whole process.
The project can be simple or complex.
Robotics

– Robotics is a branch of engineering which incorporates multiple disciplines to design, tools, build, program and use robotic software machines.
Before we proceed further…
… Let us understand more in-depth about Software Automation and Industrial Automation.
Software Automation:

It involves humans who write computer codes which can be used and trained to run the automation.
Business Process Automation (BPA

) — BPA involves a high-level strategy to streamline business processes.
This involves process re-engineering or simplifying the process and integrating to a software program.
Robotic Process Automation (RPA)

— RPA consists of more number of robots referred as "software robots" which are programmed to use computer programs in the same way as a human operator would.
They don't necessarily complete tasks in the most efficient way, but they are easier to integrate into the existing business processes.
Intelligent Process Automation (IPA)

— Using RPA with AI (Artificial Intelligence) to implement cognitive human touch performance with self-learning algorithms.
This type of automation allows the "software robots" to perform more intelligently than with the static rules used in RPA.
Benefits of Robotic process automation
Implementing RPA should always be the smartest way to solve business problems with high returns, let us see in the below image.
Following are some tools in the market that are available to implement RPA:
UiPath
BluePrism
Automation Anywhere
Softomotive
Pega
Top RPA tools and their share in the market
Free enterprise edition for the new starters and developers to try and achieve hands-on experience with training videos on the tool sites.
Apart from free videos, these companies also provide free certification with basic and advanced courses which can bring a developer into the limelight to bag more opportunities in the market.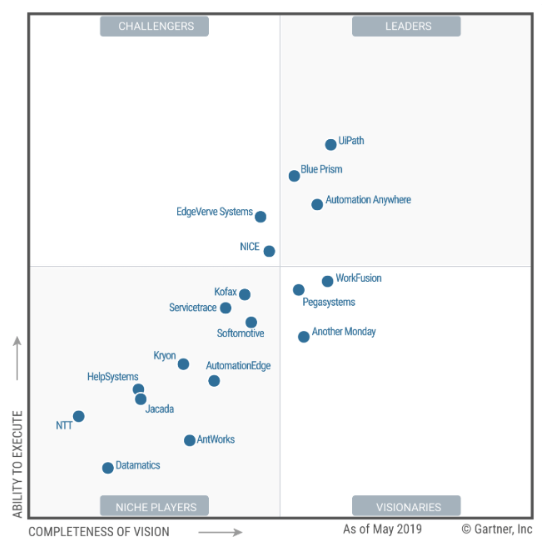 To summarize the article, RPA is an automation technique used to achieve high results for automating software robots using AI or ML or any tool available in the market.
The top RPA tools also offer certifications. These certifications are RPA tools specific and can be beneficial for you, if you are looking to specialise. You can find more details on Top RPA certifications.
Conclusion
It also mimics human behavior across business aspects and then there is automation and robotic automation, which differ from each other.
If RPA is implemented, some benefits would be that it will give better customer experience, improved delivery, etc.
Also, there are different tools in the market like BluePrism, UiPath, Pega, etc that are available to implement RPA.
About Techcanvass
Techcanvass offers IT certification courses for professionals. We are an IIBA endorsed education provider (EEP), iSQI ATP (for Certified Agile Business Analyst Training) as well as Agile Testing alliance partner for CP-SAT certification training in Selenium.
We have a Business analyst training course with domain training in-built into it. This training program offers you the opportunity to get certified with ECBA certification as well as have banking domain understanding.