Business analyst is one of the omnipresent roles, which is valuable in any strategic and change initiative in an organisation. In a traditional IT project, we know the role of an IT business analyst, but who is an RPA business analyst? What is the role of an RPA business analyst?
Before we discuss the role of an RPA business analyst, lets understand the difference between traditional and robotic process automation.
What is the difference between traditional Vs Robotic process automation?
The difference between traditional automation and Robotic Process Automation is more than a hairline (contrary to what we imagined) but the difference lies with the accomplishments of tasks and duties.
Traditional automation enables a machine to perform specified tasks at any of the step during the processing of operational processes. RPA on the contrary, is an automation technique which executes at the front-end level of your system and carries out tasks without interacting with the back-end.
Here are few basic differences in Traditional and Robotic Process Automation
| | |
| --- | --- |
| Traditional Process Automation | Robotic Process Automation |
| Traditional process Automation works at the front-end as well as back end of an application to achieve business goals. | RPA bots work at the level of the UI and interacts with systems just as a human would. |
| Traditional process automation takes much longer time due to complex programming and testing. | Robotic Process Automation enables businesses to take action quickly as they mimic the role of an agent. (Through record and play feature) |
| Customization and changes have always been difficult because changes happens at both the front end as well as back end. | Robotic process automation can easily be tailored at the UI level without affecting the back-end systems. |
| Traditional Process Automation needs programmers to write code. | RPA requires no to minimal amount of coding making it faster and simpler to implement. |
| Process automation, however, is not limited by any tool or technique. Even complex processes can be automated. | Robotic process automation is always limited by the tools being used whether it is UiPath, Automation anywhere or Blue prism. |
Role of an IT business analyst
IT business analyst works as an intermediary between the customer and the IT team as shown in the diagram below. The key responsibility of the business analyst is to understand the business needs and requirements and convert them into more detailed requirements which in turn becomes the input for the technical team.
The IT business analyst creates use cases, user stories and process diagrams to ensure agreements on requirements.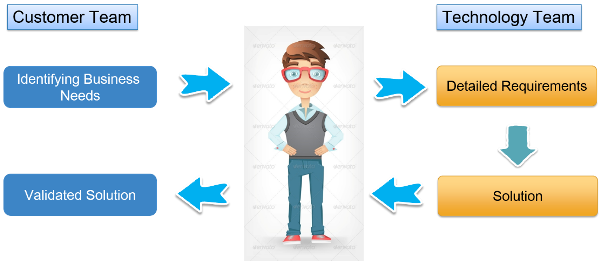 Role of RPA Business Analyst
Broadly speaking, the role of both the RPA business analyst and traditional business analyst replicates each other with finer differences. These differences lies in the selection and implementation of processes and areas to apply and thus RPA professionals needs a careful assessment.
Here are the key aspects of the role an RPA business analyst
Opportunity Assessment – Identify the processes for automation using robots. This includes assessment of potential value and analysis of cost-benefit of traditional automation vs robotic automation. At this stage, defining key outcomes (using KPIs and Metrics) is extremely important. For example, monitoring the chat answers powered by a bot for accuracy is an important metric.
Solution Design Phase – "Solution Design Phase" is the most important phase. In this phase, the RPA business analyst elicits and analyses information (data and process elements) for the existing (AS-IS processes) and automated processes (TO-BE processes). These details are captured in the process design document (PDD). This document forms the basis for implementation phase.
Implementation phase – This is the phase where bots are created using the tool of choice and the best practices. The business analyst needs to be working closely with the RPA developers to ensure compliance.
Testing phase – At this stage making real time environs and test cases enables the analysts to define highly efficient processes and work in progress.
Stabilisation Phase – Once the testing phase is over, the processes need to be monitored to check their effectiveness. Pre-defined metrics can be used for measuring and analyzing the effectiveness. In case of issues, corrective actions can be taken. This activity is carried out by the RPA business analyst.
Change Management – This is pretty similar to the traditional process automation projects. A change request process is defined and changes are managed using the process.
Conclusion
As already said the role of a business analyst remains the same in traditional as well as RPA projects however there are certain specific points which differs in RPA projects.
If you are considering Robotic process Automation domain as a career option, you can choose to become an RPA business analyst or an RPA developer. We can help you realize your career goals.
To know more visit our following blog posts

What is Robotic process automation?
Which are the top RPA Certifications
or you can also write us at Write to us at info@techcanvass.com in case you have any questions.
About Techcanvass
Techcanvass offers IT certification courses for professionals. We are an IIBA endorsed education provider (EEP), iSQI ATP (for Certified Agile Business Analyst Training) as well as Agile Testing alliance partner for CP-SAT certification training in Selenium.
We have a Business analyst training course with domain training in-built into it. This training program offers you the opportunity to get certified with ECBA certification as well as have banking domain understanding.