"How to become a business analyst" e-book
---
How to become a business analyst is a common question in minds of professionals, who aspire to be a business analyst. Business analyst is definitely one of the most promising career paths in the IT industry right now.
This guide is in the form of an e-book and will discuss in details the steps required to plan the steps for becoming a business analyst. These steps are proposed based on a skills gap analysis.
The guide will help you in knowing the key business analysis skills you need to master to enter the IT industry. This guide will also provide you a list of resources for learning the basics of business analysis skills.
---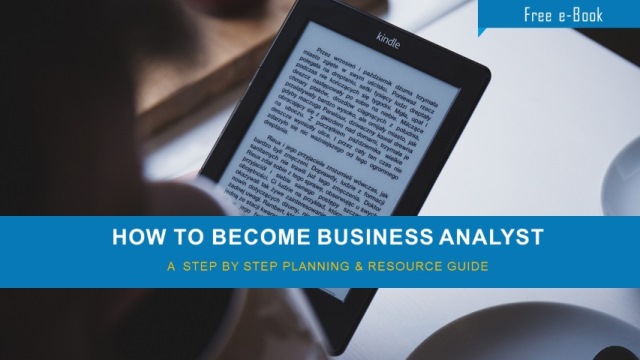 What is this book all about?
" This step by step guide to become business analyst is a PDF e-book to help you plan and to get started as a business analyst and to get started as a business analyst.."
Overview of the guide
In this 26-page e-book (available in PDF format and is also going to be available in Kindle format), the author takes you through a step by step approach towards your goal of becoming a business analyst.
This e-book is written in simple to understand format. Section I of this e-book contains the approach to plan for becoming business analyst. Section II of this e-book provides a list of resources, which you can use to learn the basics of all the aspects of a business analyst.
Contents of this guide
This e-book contains the following topics:
Introduction


Role of a business analyst


Misconception about BA career


Questions to ask, before you start


Skills Framework


Roadmap to become a BA


Learning path for BA


Learning path for BA is a step by step resource guide to help you learn the basics of business analysis.
E-book resource areas
This book provides resources for you to get started with business analysis skills. The resources are in the form of videos and articles. Chapter 7 of this e-book is dedicated to the resources. Here is a list of topic:
Software development lifecycle (3 videos)


Requirements development basics (2 videos)


Requirements modelling using UML (1 video)


Preparing SRS and User stories (1 article, 1 video)


Functional Testing basics (3 videos)


SQL basics (3-part tutorial)


If you are from a non-IT background, the book provides resources for some very basic concepts of IT.
About the author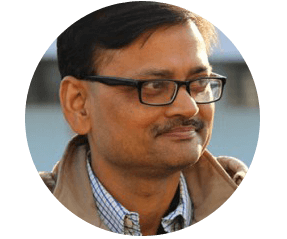 Abhishek Srivastava is a seasoned IT professional with diverse experience in Banking, Insurance, Utility and Education domains. Managing large accounts, Program management, & Business Analysis has been his forte, having done so for customers like ICICI Bank, NTPC & many other International customers. In the past, he has been associated with companies like Mastek and 3i Infotech Ltd (erstwhile ICICI Infotech Ltd).

An NIT (Erstwhile REC)/IIM Kozhikode graduate, now as an entrepreneur, he is pursuing his dream of creating an organization for providing quality training in the fields of Business Analysis & Automation Testing. His other areas of interest are Business Analysis consulting and taking guest lecture at engineering and management colleges.
---